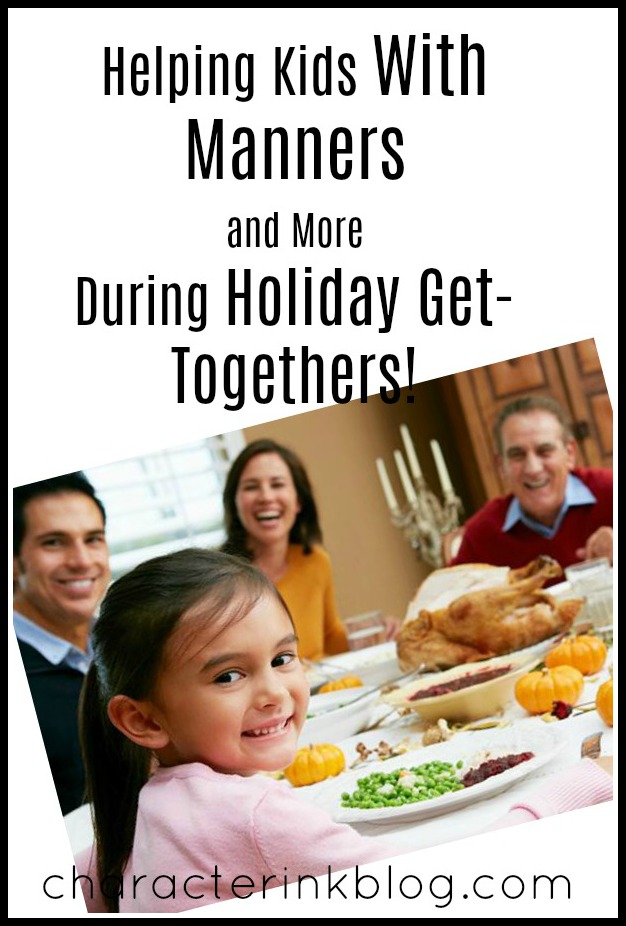 "I've learned that people will forget what you said, people will forget what
you did, but people will never forget how you made them feel." Maya Angelou
Many years ago when we had seven children fourteen and under, we decided that we wanted our children and our family to be blessings to others—not burdens. We knew that bringing seven kids into situations can seem overwhelming to hosts. We wanted people to look forward to our family coming—not dread seeing our big thirteen passenger van pull in the drive-way! We decided that when we went to a get-together, as Christians, we should be energy-givers, not energy-zappers!
We knew that going to a family get together of any kind, but especially any with non-Christians, and trying to "show" people our Christianity by our standards wouldn't work. Non-Christians do not care about your standards—they do not worry about what you are wearing, what you are not watching, and other outward signs that we often think are important (and they might be, but they seldom show our faith as much as we think they do). What non-Christians care about is how they are treated (which is what everybody cares about, really!).
We have taught our children since they were very young that other people matter—a lot. We have taught them biblical truths along these lines—do unto others as you want others to do unto you; put others first; when you see an opportunity to do good to others, do it; prefer others before yourselves (our first born's first memory verse when he was two—"'fer others a'for self!"). We taught them to always think of those around them.
We taught them to think of those beside you (your friends and siblings); those ahead of you (grandparents and others who have gone before you); and those behind you (those who are watching you). And we taught them that we are here to serve God and others—not ourselves. And this begins in our home with our immediate family—and then extends to other relatives, friends, church, the community, then the world.
What does this have to do with Thanksgiving get togethers? Everything! We can prepare our children to think of others and serve whenever they can every time they leave the house (including family get togethers) or we can just assume they are kids and should just be kids—and do what kids do. Yes, kids can be selfish—but not just because they are kids. Kids are selfish because they are humans. As parents, we are entrusted with these children in order to train them in the ways of the Lord—which includes training them in selflessness rather than selfishness.
Some might feel that putting expectations on children to have certain behavior, exhibit selflessness, serve others, etc. for grandparents and others is too heavy of a burden—but if our children cannot learn to serve those closest to them (including siblings and parents), how will they ever be able to serve others (especially spouses and their children in the future)?
1. Everything starts with you.
I know, I know…I sound like a broken record. But the fact is, if you go anywhere to be served, thinking of yourself and what you will get out of a situation, your children will too—only moreso. (We are firm believers in the saying, "What you allow in your life in moderation, your children will allow theirs in excess.") When we had many small children, we first of all, tried to be sure that we took care of their needs—that people did not feel that we came with all these kids for others to tend to. Secondly, we tried to divide up and help as much as we could. Oftentimes, we had our hands full changing babies, nursing, fixing kids' plates, wiping up messes, etc. However, anytime we could, we tried to help others—we wanted our kids to see that we are not here just for ourselves.
2. We tried to do things ahead of time that would bless others—
Staying up late the night before to make special dessert or getting up early and peeling twenty pounds of potatoes were things that we could do at home to bless others there—even if our hands were full at the get together. We always told our children that if you can do something to help others or serve others, try to do it. (Obviously, you can't always help everybody all the time—but we tried to teach them to always be on the lookout for ways to help others—and God has used that mightily in preparing our now-adult children for their current areas of ministry.)
3. Gratefulness begins at home…okay, everything begins at home.
Whatever we want our children to learn and do, we must train them in that in our homes—not hope they get it at church, youth group, Sunday school, or by osmosis. If our children are taught from early ages that everything we have comes from the hand of God—and that without him, we are nothing—they are more apt to be grateful for little things. How is this done? "Slow and steady; steady and slow; that's the way we always go." In other words, it's not a "character lesson" for Thanksgiving week (though it can't hurt to emphasize that quality this week!) or a book that you can read (though we are reading about gratefulness right now in Character Sketches). It is something that is cultivated as we pray, worship together, remind our children that others are investing in our lives and that God uses them to bless us. Discussion, discussion, discussion. "Did you notice how hard Grandma worked to prepare today for us?" Every little detail of living for God (including gratefulness) can be taught at home through living and talking.
4. Manners begin at home…okay, everything begins at home and must be in us first.
There, I said it. I spelled it out. LOL! Manners lessons were definitely something we taught. (Ray just listened to an audio about teaching manners a few months ago and was giving lessons to the boys while we traveled. As we sat in the "thrown rolls restaurant," and Ray tried to teach the boys about silverware use (yes, you need to teach boys that!), one of the kids piped up with: "Dad, I don't think a restaurant where they throw the rolls at you and they serve various things on brown paper toweling that they FRIED is a place that cares about manners!") Need I say it again? If our kids talk with their mouths full, are not made to sit still during the meal, do not pass food (but keep it in front of them for later!), eat with their fingers, etc. at home, guess what? They will do at family get togethers too! Manners are common courtesies that we as Christian parents need to focus on.
5. Focus on respecting our elders.
Respecting our elders is truly a lost art in our society—and it is so sad that it is that way. For one thing, the Bible states over and over that they should be respected. Secondly, it is such an obvious extension of the Golden Rule—let's face it, we all want to be treated with kindness and respect in our old age. Start with the bear minimum—not doing anything that could harm or endanger an elder. For example, we always told our children what we expected of them in every scenario that we went into. "Now you need to talk quietly and not run at Grandma and Grandpa Rager's because they are not used to having rowdiness—and you wouldn't want to run into them or have them trip over you." Then move into the way they speak to elders. We trained our kids to speak to those who speak to them—preferably looking the person in the eye and warmly shaking his or her hand. Moreover, as they learned to not be too shy in that scenario, we taught them to converse with the person and ask about him or her. (We often gave the children "assignments" at church to shake hands and ask about one new person each week to help them learn to do this!) Grandparents, especially, should be greeted warmly and sincerely. I know this sounds trite—but these are their grandparents! They are our fathers and mothers. They deserve kindness, warmth, respect, love, and assistance. Finally, our children learned to look for needs that their grandparents might have and try to meet them. (We taught our children that if Grandma is going in the kitchen to clean up, the Reish family should too!)
6. Remind kids about situations in which deference should be exhibited.
(Note: Deference is the act of deferring or putting off what we want for ourselves—like when you "defer" payments for a whole year—you are putting them off. Deferring (or "yielding," as we also commonly call it here) is desperately needed. Giving up what we want for the good of someone else will get noticed far quicker than quoting Bible verses or praying before our meal (though, again, there is nothing wrong with those things—but when someone gets treated well, he or she takes note!). We have a saying in our family that "Reish children pick up some floor!" This means that when you are in a situation in which there are not enough seats, you should take a seat on the floor. This is especially true with small children, but it's not at all uncommon for our big teenage boys to be on the floor in many situations. This is one way that we have taught our kids to defer to others in social situations. Other things to consider are allowing others to go first in the food line, taking small portions or none at all of a dish that is almost out or seems to be in short supply, giving up your chair or place at the table, and many more. These are common courtesies that Christians, of all people, should display. When you talk about deference over and over again with your children—pointing out situations in which they can potentially yield their rights to other people, they will begin seeing these situations for themselves eventually.
7. Teach children to be helpful.
You have probably heard the saying that 80% of the work in the church is done by 20% of the people—well, the same is often true in families. The same people often host gatherings, and if you have done much hostessing, you know that it is a lot of work. We continued the theme "if you see a need, try to meet it," in family gatherings. If children can put chairs away, pick up trash, run the vacuum, or dry dishes, they are ready to be helpers! Note that some hosts truly do not like to have children helping/working with them, so we tried to be sensitive to that as well. Again, if children are taught to be helpful at home, they will be more likely to be helpful in other situations.
8. Bring the fun!
We like to bring games, holiday videos, yummy carry in dishes (now is not the time to try to get the extended family members to start eating their green veggies!), and more.
As Christians, we should strive to treat others in such a way that people want to have us around—that we are energy givers, not energy zappers. And we should teach our children to do the same.