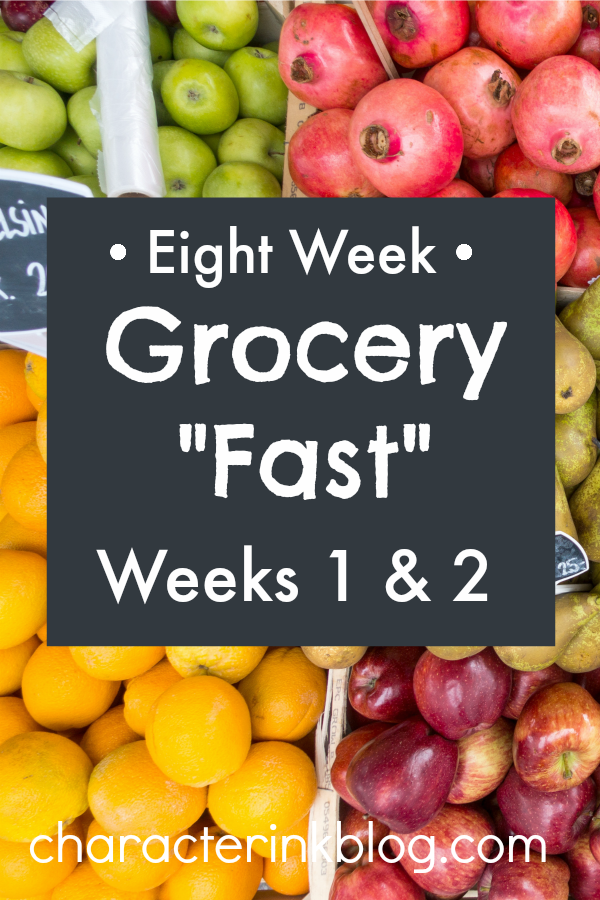 We are two weeks into my grocery fast (see the intro post here), and I already have unique situations and "special" circumstances to navigate. But like I always told my kids as I was raising them to do what they had to do every single day: "Every day is special, but every day can't be a special day!" In other words, when we look at everything that comes up as an occasion to skip our school plan, not do our cleaning, or eat sweet treats, we will not be successful.
The same is true with my grocery fast. I could easily say a week or so in that I can't keep it because we're having movie night with the kids; I need to spend more because some of the kids are coming for Sunday dinner; I need to take some food to my step-mom; I need to make something for our ballroom dance; and on and on….
Or I could come up with some creative options that work for my grocery fast and for the "special" circumstances.
Below are a couple of links to products I use and love. I am an affiliate for Amazon.com. If you click on the links below I will earn a small commission. Thank you for your support of this blog!
So here were my special circumstances and solutions for the first two weeks:
1) Family Movie Night: Stone Soup!
I sent the kids a text through the family thread telling them about the grocery fast (they had been telling me for years to empty my freezers!) and that we would be having "stone soup" for the movie night. They asked what they could bring and I told them we pretty much had it covered except for regular bread (they don't like sprouted), peanut butter, and dessert.
The older kids knew what "stone soup" meant as when they were little, in honor of the story by the same name in which villagers brought foods one at a time to add to a pot of water with a stone in it—and it "magically" became a soup, we had a tub in the freezer marked Stone Soup in which leftover meats, sauces, and veggies went into after a meal (if there wasn't enough of these things to have as leftovers or I didn't have another plan for them). When this tub was full, we defrosted it and made "stone soup." They knew we were having soup made out of whatever I had in the house!
The party was a great success. Actually, for some reason, everyone said it was the best chili I had ever made. I know that this is unrelated to the grocery fast, but I was happy about that! Oh, and my daughter left her half-filled peanut butter jar, so that is one less thing to add to the list this month!
2) Food to Give Away/Take to Dance
Once a week we go eat lunch or dinner on the weekends with my step-mom. My dad died in the spring, and she has no family but us. It has been hard to continue the weekly visits after my dad's death (many, many Saturday tears upon leaving her apartment), but I am happy to invest in her as she invested in my dad for nearly forty years. We either eat in her Independent Living cafeteria, take her out, or take food in. She has extra food credit right now in the cafe, so that part was easy. When we go, we take her things she needs, take her out to shop, stay and play games, and sometimes take her food or goodies that she doesn't make for herself or get in the cafeteria. This was easy enough as we had lots of leftover soup, cornbread, fruit salad, and dessert from our movie party! (And she said it was the best chili she had, had in a while too!)
The next day was a ballroom dance, and I am known for bringing homemade treats or appetizers, so I didn't want to disappoint! I had a zip-lock bag of frozen peanut butter cookie dough, the aforementioned leftover peanut butter my daughter left here, some chocolate chips from when I made Christmas fudge, and leftover holiday M and M's. Enter "Cookie Candy Bars"! These are seriously the easiest thing to make and everybody LOVES them. You just press the dough into a 9×13 baking pan and bake it. Then melt chocolate chips with peanut butter and spread over cooled bars. Then crush and sprinkle M and M's (or other candy). (See my low carb/healthy recipe for this here or the quick, sugary version here!)
3) Leftovers, Leftovers, Leftovers!
After our Christmas on December 30th, we had sooo many leftovers. I sent a bunch home with the kids, but I still had too much food left. I knew I was doing the Grocery Fast, so I was even more conscientious than I normally am with leftovers.
To start with, we didn't make anything new for the first week. This was tough—we were getting tired of Christmas food! But we held strong (except for making new green beans every couple days!).
I added a couple of pieces of fresh fruit to the sad-looking fruit salad and brought it back to life. Ray enjoyed this as did my step-mom. (I sometimes do this when I'm near the end of a fruit salad but the dressing is still good—though I never do this with a fruit salad containing bananas. It's just not kind to the eaters!)
By the end of the first week, we cut into shreds (with scissors) the leftover ham, turkey, and roast beef. We bagged these and labeled them "Shredded Beef With Gravy—1 Pound Fully Cooked," "Shredded Turkey With Broth–1/2 Pound Fully Cooked," etc. (It's important to note the state your freezer foods are in if you freeze them in different states all the time like I do.) Looks like we'll have more Stone Soup soon! 🙂
I usually throw out whatever sugary foods we have after a get together (that the kids don't take home). Thinking of my grocery fast, I actually threw out all the pies except for a piece or two for me that I had saved for my eating window and several pieces I took to my step-mom for her freezer. However, I didn't throw the cookies and candy out, I tubbed them up, labeled them, and froze them for the future. I feel like I have enough self-control with Plexus and Daily Intermittent Fasting (IF) that they will be safe there until we have an occasion to use them. (Hopefully!)
4) We Used Some Foods Up!
We used up 3 pounds of ground beef and 3 pounds of chicken breast when we cooked them for the soup on family movie night. I was more careful than usual with the meats—only used ¾ of them in the soups and tried not to make more soup than we could use that night, give to my step-mom, send some with our soup fiend son, and eat a meal or two of it the next week. (As a matter of fact, when Ray came home from work and saw the beef chili, he said, "Is that going to be enough?" He has NEVER said that before!! And we did use it all after we sent some home with the aforementioned son and step-mom.)
But I rationed the meat and kept out ¼ of the ground beef and ¼ of the chicken for us to make another meal out of it for ourselves. I normally would have used it all and just made the soups meatier. That was a win on rationing AND using foods up!
I had eight boxes of various types of crackers! I had bought them when our son came home from his internship, a little at a time, and Ray and I don't really eat crackers much at all and our son moved in with his brother—so there they were. I'm happy to report that we used two of them on soup night with the fam! (I put out leftover cheese spread from Christmas as well.)
For Sunday afternoon football, I was still in my fasted state, so Ray gathered up all the leftover frozen appetizers from our family Christmas Eve party and baked them all in the oven. This was a win because we often have little zipper bags of different frozen appetizers after family parties—so purposely using these rather than making nacho bar, etc., like we often would, was great! (I don't watch football anyway, so I went to my room and read while they ate!)
And….we used some frozen veggies! Since starting Daily IF, I have become a bit of a food snob. I really like to make Ray fresh stir fried veggies or roasted veggies, and I really love my fresh green beans. I want to get to the bottom of all of these bags of frozen vegetables, so this was a start!
5) I Only Spent $35 the First Two Weeks!
I made it two weeks without much expense! Yay me! I went to Sam's and bought apples, oranges, fresh green beans, and Romaine lettuce. I was super excited about that!
However, I had another problem to face in cutting my groceries down to an average of $25 a week—I was addicted to an expensive brand of dry shampoo! I had tried the $4 bottles (several); I had tried some of the $8 bottles, but the only brand that worked with my hair color (and that I could stand the smell of!) was Matrix Biolage Waterless Clean and Recharge Dry Shampoo ($18 a bottle!). And I used at least two bottles a month. I couldn't use 1/3 of my grocery budget during the grocery fast on dry shampoo! (I have seriously tried so many cheaper ones—and I don't HAVE to have a certain regular shampoo, honest!) But then I saw a thread on a FB friend's timeline about dry shampoo and someone said she had tried many of the same ones I had tried and finally found one that didn't leave white residue and didn't choke you with the smell—and it was half the price of my normal one. I ordered it on Amazon and loved it! I was able to cut my dry shampoo expense in half the first month of the grocery fast! (The new, less expensive, but still wonderful one is Eva NYC Freshen Up Dry Shampoo.)
So that was my $35 for two weeks of groceries—apples, oranges, green beans, lettuce, and dry shampoo! Oh, and ice…have to have my ice every day for my water since I pretty much only drink water and Plexus Slim—and I drink a lot of water!
It's been a great two weeks! I can't say that I feel like my freezers, fridges, and cabinets are going down quickly—but I know they will as I stick to the plan!
P.S. How do you stop buying so many groceries and use up what you have? Any good leftover tricks?