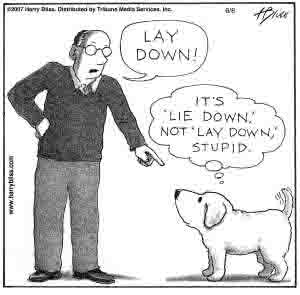 Sit and rise have I's–and lie does too.
"Coz these are things that I, all by myself, can do.
Set, raise, and lay are words that you choose
When each one has an object after it to use.
Here we are at the end of our Wacky Word pair—lie and lay.
Remember these lie and lay tips:
Lie has an I—and I alone can do it (it is not done TO something else).

I lie in bed at

wide awake.

Yesterday I lay awake half the night.

Before that I had lain down when the cat jumped on me.
Lie means to stretch out in a flat position—anybody or anything can lie, as long as it does it by itself (i.e. it is NOT laid)

She lies down with a headache every day.

The sun is lying low.

She has lain down for a nap.
Lay must have an object following it—something that it is being laid down.

Lay your book on the table.

He laid his money down.

She has laid the towels in the sun.
Okay…the tenses for the three:
a. Base form: lie—Tomorrow I will lie down early. (Remember—no object; down is an adverb; early is an adverb here, not an object.
b. Past simple: lay—Yesterday I lay in the sun. (Tricky part: past tense of lie is lay; lay is also the present tense of lay—to lay something down!)
b. Past participle: lain—They have lain low ever since then.
d. Third person singular: lies—The dog just lies under the tree all day long.
e. Present participle/gerund: lying—The sun was lying on the horizon for so long today.
Base form: lay—I lay the kids' clothes out every day. (Tricky: lay is the base form of lay (to put something down; it is also the past tense of lie—to stretch out by yourself or itself.)

Past simple: laid—Yesterday I laid the pink pants out for Jon.

Past participle: laid—Before the dog came in, I had already laid his bones out.

Third person singular: lays—He lays the book down every night at ten.

Present participle/gerund: laying—I am laying the swim suits out to dry.
Tricky Tricks to Help It Stick
Again, do sit/set first (all same base word for tenses of set!) or rise/raise (since many people get this pair correct even if they do not know sit/set and lie/lay very well).

Do rise/raise after sit/set or sit/set after rise/raise (saving lie/lay for last).

Memorize acronym/rhyme to cement the fact that all three with I's are the ones that are done by someone or something (not to something).

When you get to lie and lay, to lie first all by itself until it is memorized. Then do lay. (I am starting to wait a week between the two with lots of practice on lie during that week before moving on to lay.)
I'm officially done with sit/set; rise/raise; and lie/lay! Time to move on. I feel that I have risen to the occasion and am glad that I did not sit idly by and lay these tricky ones aside. Glad I did not let people lie in agony over these Wacky Words. I would like for all of us to set our grammar burdens aside and raise a toast in honor of sit/set; rise/raise; and lie/lay!
J
(Last time for a while, honest!)
Subscribe!
...and download my Kid's Faves list plus get access to my language arts freebies!