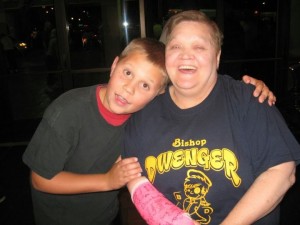 The homeschooled kids in our area start out young (as early as ten years old with their parent) serving in the One Heart Disability Ministry. Look at the joy that children bring to those with disabilities!



A Facebook post just came through from my daughter and her husband concerning their

disability ministry, One Heart:


"Got some sad news this morning that Charlie, one of our dear One Heart members passed away this Wednesday night. Charlie always made us smile and brought us joy. I bet he's bringing other people joy in Heaven now! He always answered questions about the Bible with, 'Jesus died on the cross for us.' What a simple, amazing truth. Last year at the Talent Show he sang 'Jesus Loves Me.' So blessed that he was part of our lives!"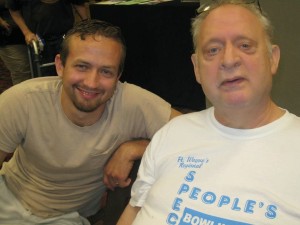 My son-in-law Joseph with Charlie




If you have heard Ray and I speak in our parenting seminar, "Raising Kids With Character," or at a homeschooling convention, you know that we are big advocates of teaching children to serve at young ages. You might also know that we believe there is a hierarchy of service outlined in the Bible that teaches children to serve the Lord at home–to serve their own families—first, followed by reaching out to those locally and finally to the "uttermost parts of the world."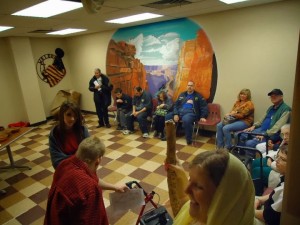 "Journey Through Easter"–drama and walk through (with petting zoo!)–is always a hit with the One Heart attendees
Without going into the entire seminar session, I will give you some keys that have led us to this thought process:
1. "To whom much is given, much is expected."
2. "He who does not provide for his own family is worse than an infidel."
3. Parable of the talents
4. Serve in your own "Jerusalem" then your state/region….then the uttermost parts of the earth
We began this teaching with our kids when they were two or three years old–teaching them to pick up around the house, unload the silverware in the dishwasher, help put away laundry, etc. Then they continued to learn household skills that they could/would eventually use in serving others.
As they grew, they served with us–starting with setting up chairs for small group or homeschool support group meetings and moving into going with us to nursing homes and other local outreaches.
Soon the time came for them to go "out" and serve others–that is, they had learned to serve their family so well and so cheerfully and so diligently that they could take the skills that they had learned here and serve on their own.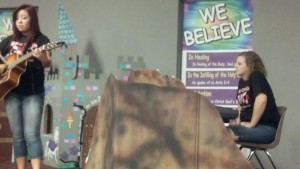 The skills that we have built into our children during their formative years–cooking, cleaning, organizing, serving, music, drama, reading, writing, leading, Bible teaching/studying, etc.—are used over and over by our young adults in their various ministries
This has looked different for different kids–from preaching in young adult services to leading/directing dramas in church to singing on the praise team to working in children's ministries (locally and at state homeschool conventions) to "going to the uttermost parts of the earth"–such as taking wheelchairs around the world with Joni and Friends; serving at state capitols every weekday for a semester; leading drama teams of teens in summer drama traveling around the midwest or southern USA; and even starting a ministry that would some day reach over one hundred disabled adults every week for many years.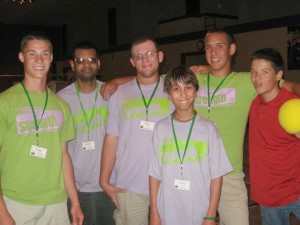 Boys' sports night (along with a trophy for each client!) is always a hit with the One Heart male clients
The latter is what this post is going to focus on–and the impact that teaching our children to minister to "the least of these" really has on our children–and their futures.
When our third child, Cami, was seventeen years old, she served at a Joni and Friends Family Retreat (the world-wide disability ministry of Joni Ereckson Tada) for two weeks. At the end of the retreat, she told the leaders there that she wanted to do something similar to the retreat back home–on an ongoing basis. They told her to go back to her pastors and tell them and see what she can start.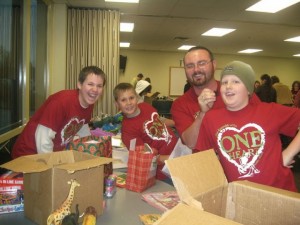 One Heart "Special Deliveries" is a yearly outreach to nearly three hundred disabled adults in the Fort Wayne, Indiana area
Cami was a senior in high school when she began the One Heart Disability Ministry (One heart…one soul..is worth it…). She had trouble getting volunteers (it is difficult to work with disabled people–and many adults do not want to get involved), but she started rounding up her younger sister and little brothers and their friends, and before she knew it, she had a weekly ministry, sort of a "Sunday school" every Tuesday night for adults with cognitive disabilities. And it grew. And grew. And grew.
Within two years, she had her associates degree in church ministry with an emphasis on disability ministry, and she was asked to come on staff at the church as the Disability Ministry Director, the "official" head of One Heart Disability Ministry.
Four years ago Cami married a young man who has a paraplegic brother and cousin with severe brain injury–and also a heart for the disabled and broken, much like Cami has. They have continued leading One Heart together with their combined compassion, love, and selflessness.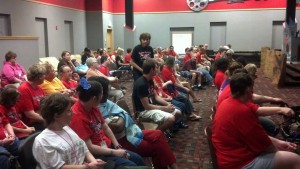 In addition to the weekly services that are held with over one hundred disabled attendees all throughout the school year, One Heart delivers gifts and goodies to up to three hundred disabled adults in the Fort Wayne are every Christmas, hosts a summer VBS, and has other special events throughout the year.
My message today is not what kids can do when they are trained in so many skills (that would take a book–and I would love to write it!); nor is it about having kids serve in general (though that is a good idea too!). My message today is this:
Teaching our children to minister to "the least of these"–the widows, elderly, disabled, and orphaned–has the potential of having a bigger impact than almost any other ministry or service opportunity they could do.

Why do you suppose this is the case?
It is consistent with Scripture–"do not only invite those who can invite you back"; "care for the widows and orphans"; and Jesus' ministry to the blind, mentally challenged, poor, hungry, homeless, etc.
It builds an empathy in our children that cannot be duplicated anywhere else. Truly, we can tell them there are poor children who do not have enough to eat, but until they serve food to them in a summer ministry in the park, they cannot comprehend that. We can tell them that there are people whose brains do not work like ours do and they cannot do for themselves, but until they go week after week and listen to these people tell the same stories over and over or teach them to color or tell them about Jesus, they cannot FEEL the feelings that we should as Christians feel for those less fortunate than we.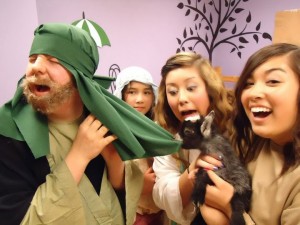 Our four youngest children started working in One Heart with Cami as soon as they could be trusted to fully obey their older siblings and really work hard without parental supervision (not be tempted to play ball in the gym during the gym night but instead stay focused on the people they were there to serve). This was between the ages of eight and ten for all of them.
And as a result, they are four of the most sensitive, compassionate kids I have ever known.
Would they have developed this sensitivity and compassion without serving "the least of these" in an ongoing manner?
Maybe. Maybe not. But I know that this consistent outreach–having to give up their own interests one evening a week, being responsible for their parts (teaching, serving refreshments, leading games and crafts, etc.), and learning to love and reach out to those who are "different" and extremely-mentally challenged–has had a huge impact on the kinds of people that they are growing up to be.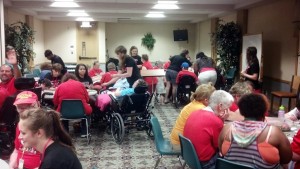 P.S. Cami and Joseph are expecting their first baby in January, and Cami recently posted the status below. It is such a blessing to think that my grandson is going to start learning to serve "the least of these" from babyhood.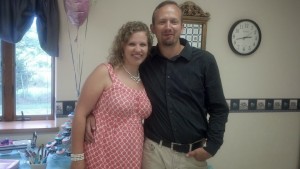 "
Funny story from One Heart last night….(this is even better than last week's story!) I (Cami) was closing the evening in prayer with a full classroom of people and as I stood in front with my eyes closed, I feel someone patting my belly. I look down (mid prayer) and I see Susie, a One Heart member with down syndrome, just patting my belly and smiling as if she was talking to the baby. It was adorable and hilarious all at the same time. I got through the prayer without cracking up too much and dismissed everyone. Love it that the One Heart people are so excited about our baby. Can't wait until he is here and can meet everyone. He is loved already!"