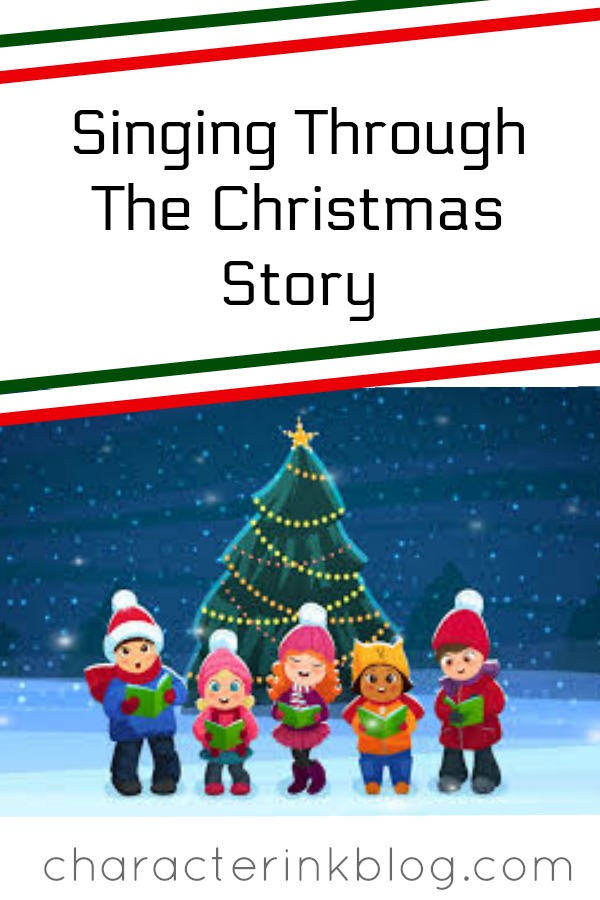 For not really being "singers"—and for most of us not really knowing that much about music—we are a pretty "sing-ee" family! We love to sing hymns and worship songs while we're driving or sitting around the living room. If one of our pianists is here (Kara and Cami), it's even better! At Christmas time, we really getting into the singing spirit! We love to memorize a complete carol (all the verse) and sing it together; we love to drive around looking at lights and have someone lead out when a certain decoration or sight reminds him of a carol; we love to "sing through the Christmas story."
Several years ago as we were sitting around singing carols, we challenged the kids to sing a song about a certain part of the nativity story (one part at a time). Before we knew it, we had compiled an entire "cantata" (roflol!) singing through the Christmas story. Cami quickly found the words to all of the carols and made a colorful song sheet on the computer for everybody—and we have since enjoyed "singing through the Christmas story" quite often.
Below are the songs that we sing in the order that we sing them, along with links to the words to each one. Obviously, there are others that would also fit, but these are the ones we discovered and have enjoyed singing. Happy caroling!
1. "O Little Town of Bethlehem" https://www.allthingschristmas.com/music/lyrics.html#olittletown
2. "The First Noel" https://www.allthingschristmas.com/music/lyrics.html#firstnoel
3. "Hark! The Herald Angels Sing" https://www.allthingschristmas.com/music/lyrics.html#hark
4. "It Came Upon the Midnight Clear" https://www.allthingschristmas.com/music/lyrics.html#itcameupon
5. "Silent Night" https://www.allthingschristmas.com/music/lyrics.html#silentnight
6. "O Come, All Ye Faithful" https://www.allthingschristmas.com/music/lyrics.html#ocomeallye
7. "Away in a Manger" https://www.allthingschristmas.com/music/lyrics.html#awayinamanger
8. "O Holy Night" https://www.allthingschristmas.com/music/lyrics.html#oholynight
9. "We Three Kings of Orient Are" https://www.allthingschristmas.com/music/lyrics.html#wethreekings
10. "Joy to the World" https://www.allthingschristmas.com/music/lyrics.html#joy