The Meaningful Composition (MC) series is a multi-level writing program for students in grades two through twelve who desire to use character-based (and sometimes biblically-based) materials, themes, and subject matter, including, but not limited to, character
stories, biographies, science and weather/nature topics, animal information, Bible stories, and much more. (You may see the types of papers and assignments and content by looking at the two-week samples of each book by clicking on the picture below.)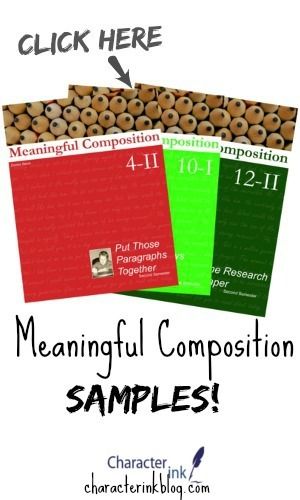 Additionally, MC uses many of our original methods that we have tested with one hundred to two hundred students every year for the past ten years. These methods work—whether they are Directed Brainstorming and Scene-by-Scene development for story writing or Outlining Cards and Bibliography Cards for Research Report writing or the Three P's of Persuasion for Essay Writing.
We take students by the hand and leave nothing to chance! (These methods can also be found in our samples.)
Character Ink has been revising and testing our existing Meaningful Composition books and writing several new ones so that we will have sixteen total books (of the eventual twenty-six) ready for purchase this spring. This will include ALL first and second semester books from MC 4 I through MC 10 II (plus 12 II and our SAT Essay and Other Timed Writing).
Visit us frequently as we put up new two week samples of each book throughout the coming month—try before you buy! And you will see why our local test students are writing exceptional SAT and ACT Essays and doing outstanding college writing after using the Meaningful Composition series!
Ready to browse the samples?  Click here!
Subscribe!
...and download my Kid's Faves list plus get access to my language arts freebies!