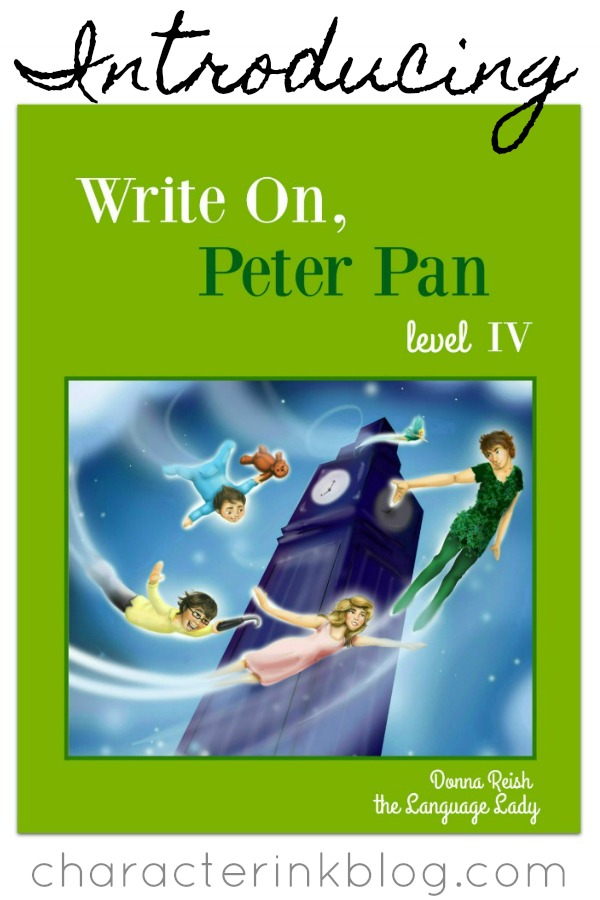 Fourteen down, one more to go! Then we will have all 15 of our Write On downloadable books up for sale at the store, Teachers Pay Teachers, and Amazon! This post is to let you know about one of my faves—the Level IV book of the Peter Pan series. Take a look at the extensive sample pages for this book here at our store, and read on to find out why your kids will love our Write On books—and especially why your upper level students will love Peter Pan IV!
Here is what you need to know about the entire series of fifteen books:
1) They are called Write On (clever, huh?) and then a character's name:
Write On, Mowgli (Jungle Book)
2) There are five books of each title—five levels:
I—2nd-4th grade writers
II—-4th-6th grade writers
III—6th-8th grade writers
IV—9-10th grade writers
V—10th-12th grade writers
3) Each book comes in print form directly from us (Character Ink store) and in downloadable format from our store, Teachers Pay Teachers, and Amazon.
4) They have a variety of writing types. Each store description tells what types of writing project each level contains.
5) They have our best and newest teaching methods. No vagueness. No writing ideas. You and your student will know what to do every step of the way.
6) Each project has a detailed sample of that project. I can't stress this enough. All writing books should have a final product showing what the expectations are for the assignment.
7) They are incredibly fun and engaging. We have been testing them for four years now—and our kids love them! (We test all of our books with 100 students a year in various locations—live and online writing classes.)
8) Each book has at least a dozen sample pages to print off or look through where ever they are sold!
Here is what you will find in Write On, Peter Pan, Level IV:
A. This Level IV book is designed for beginning to upper level high school students and contains the following projects (from prewriting through final product with all the instruction and skills needed for each assignment):
I. Essay Writing—Three Reasons Hook Is a Good Villain or Peter Pan Is a Good Hero
ii. Original Story of Someone Getting Away From a Villain on Hook's Ship
III. An Original Research Report About One Thing of Aspect in the Story of Peter Pan
B. Each project has detailed samples for students to see how the project was written by another student.
C. Each project has in-depth lessons of all of the skills needed in order to complete that project—
I. The 1-3-1 Essay Approach
II. Quotation Inclusion in Essay Writing (with punctuation lessons)
III. Thesis Statement instruction
IV. Directed Brainstorming Boxes
V. Sentence-by-Sentence Outlining, including links/transitions
Vi. Writing With a Series of Three or More
VII. Extensive Checklist Challenges
VIII. Dialogue Writing
IX. Said/Asked/ Exclaimed lesson
XI. Colon use in dialogue—and more!
PIN THIS POST!