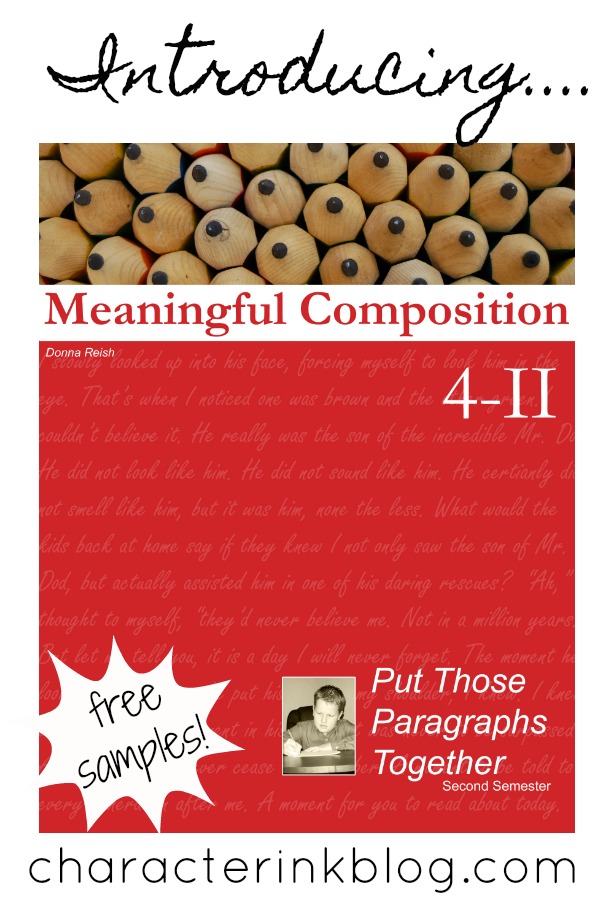 Our newest fourth grade composition book is up! Well, it's not really new…it's just one of the last two books of the Meaningful Composition series to be revised. And I am so happy with it!
I am happy for all of the regular reasons: (1) It is completely directed—no guess work, no vague ideas of what a student should do, no writing idea book or prompt book; (2) It follows the same layout—each project is one or two weeks long; (3) It teaches the skills needed to complete each project (when an assignment has the student add a quote, it has extensively quote lessons to teach them HOW to add quotes!); (4) It has the outlining spaces, brainstorming boxes, etc., all within it; (5) Has samples galore; and much more.
(See me, two years and 30 pounds ago explaining the details of MC HERE) 🙂
(Or find out why MC works HERE)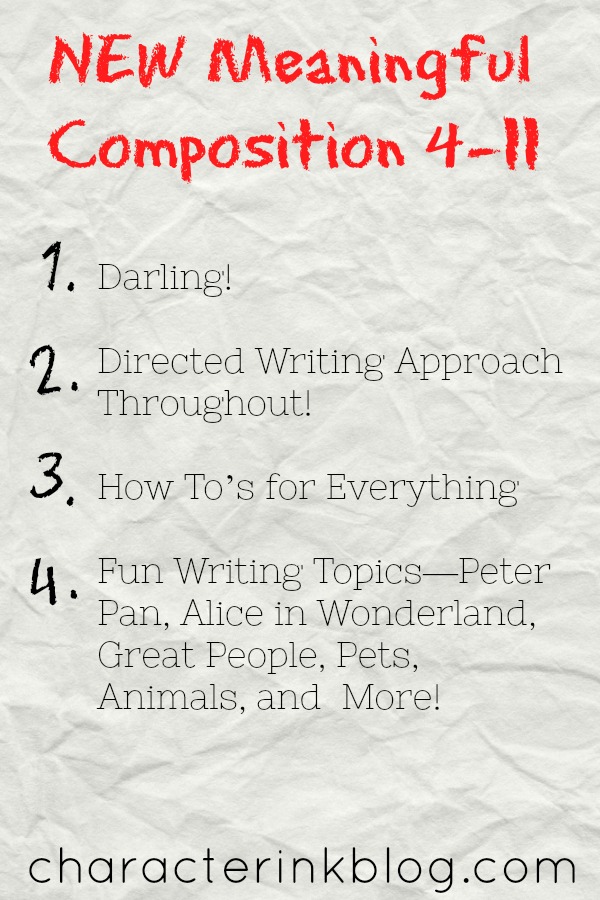 True to all of our second, third, and fourth grade books (and all first semester books for 5 through 9), it has the HOW TO's in the first section. In this case, it has:
(1) How to Write From Sources Using Our Signature Writing Boxes (super effective writing approach that Cathy Duffy loved that is in all of our elementary MC, Write On, and Write-for-a-Month books);
(2) How to Write From Sources Using Our Sentence-by-Sentence Outlining Approach;
(3) How to Complete Our Signature Checklist Challenge. These are step-by-step lessons on our approaches that fall in the first few weeks of each MC first semester books (2 I through 9 I). (Of course, they all teach these lessons with different level-appropriate materials!)
And then…..the absolute darling-ness-factor of this book……
1) Starts out with an Alice in Wonderland writing boxes lesson
2) Has amazing people for them to write about—-Clara Barton, George Washington Carver, and more
3) Contains a Peter Pan story-writing-from-given-source lesson (darlingx5!)
4) Teaches how to write opening and closing paragraphs using sets of animals that display various qualities
5) Uses "zoo information cards" to outline original animal paragraphs
6) Teaches a book report using a meaningful story that they choose about people who were reconciled to each other (okay..little conflict resolution lesson in there!)
7) Has a perfect balance of given sources and original writing for this tender writing age
8) One of the original projects is interviewing pet owners and writing two paragraphs—what fourth grader doesn't love pets???
I'm crazy about this book, and I know you and your young writer will be also! But just to be sure you know what you are getting yourself into, go ahead and print off three weeks of the sixteen weeks to try with your kiddos! It's free….because we want you to love what you are buying before you buy it! Get that sample HERE!
Check out all levels of MC at our store—two semesters of each book for second through twelfth grade students. This is the most versatile writing program you will find—no expensive videos or extensive packages; everything contained in each one semester book; Directed Writing Approach throughout. Add a grammar program to 5th through 12th grade books, and you are good to go.
No need to add a grammar program to the elementary books! The 2 I, 2 II, 3 I, 3 II, and 4 I books are grammar-included, so no other English book is needed.
Click the image below to view MC 4-II in the store!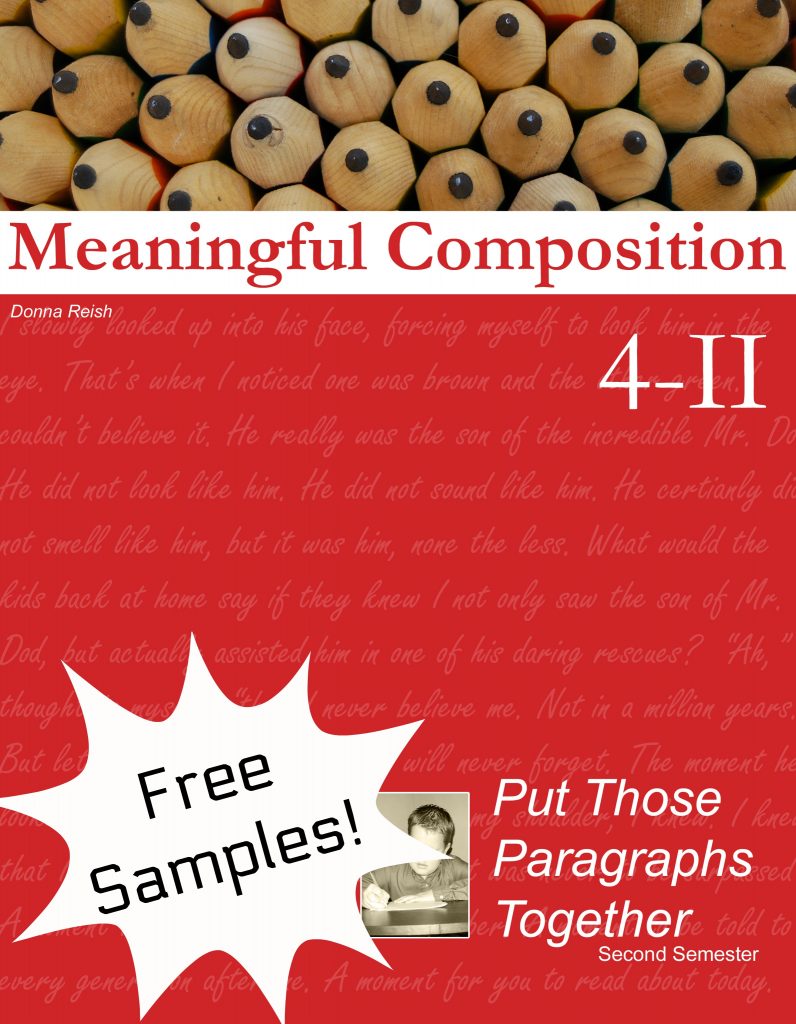 Click HERE to view our other Meaningful Composition books!