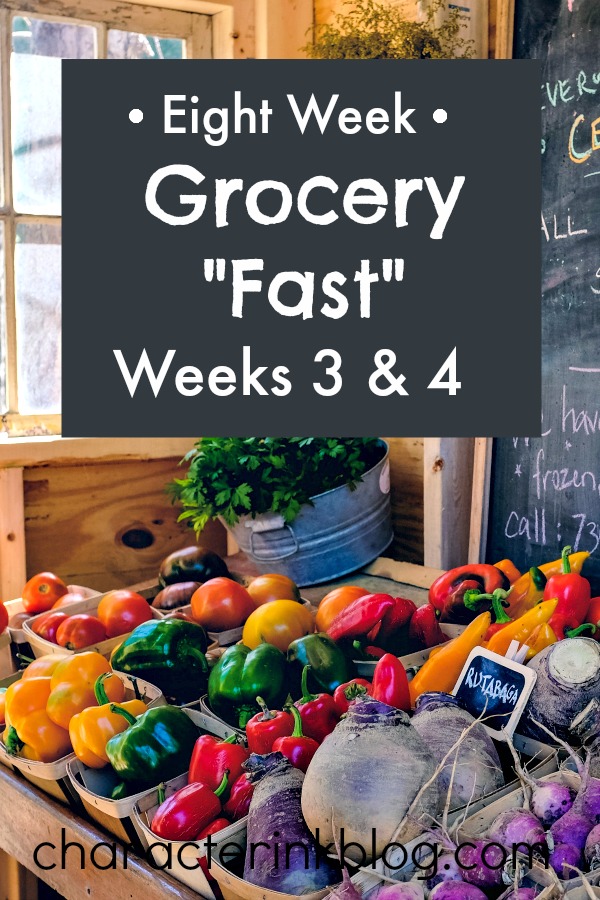 Well, I am at the three week mark in my grocery fast, and at the beginning of this week, I had only spent $35 (of the $50 I had budgeted for two weeks). (See Weeks 1 and 2 here.) I was encouraged about the dollar amount, but I was somewhat discouraged that it didn't feel like any of our food stores were going down that quickly. That part didn't really get any better during Weeks 3 and 4 as I went on a five day writing retreat and ate out each evening with my daughter (who was there for her master's seminar) for my one meal a day. (Interested in OMAD–One Meal a Day??? Check out my Daily Intermittent Fasting videos, audios, slideshows, and posts here!). While I was gone writing, my husband did manage to use up veggies, broth, and tomato juice since he made himself vegetable soups every night! He didn't use up any of the meat we had shredded and frozen the previous week, so our stores didn't really get depleted. But…here is what we did use and do:
Holiday cookies in January? When you're trying to empty the freezer, you bake them and take them!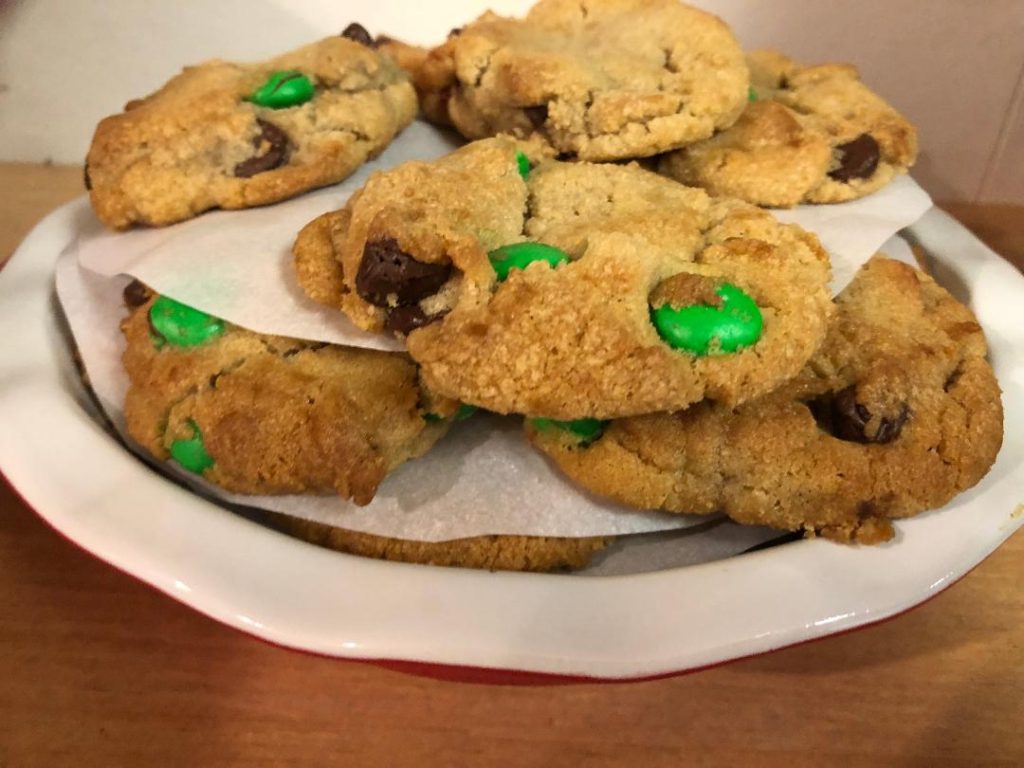 1) Still trying to avoid the whole "I really want to make these bars with these ingredients" mindset,
so I took Christmas cookies to a dance, using up the dough balls I still had in the freezer. I was also careful to not throw away foods just because we were done having them for leftovers! I froze leftover mashed potatoes that I will use for Shepherd's Pie and leftover egg casserole. Now the trick is to get into the freezer and use them!
6-acre grocery store during a grocery fast???!! What was I thinking!?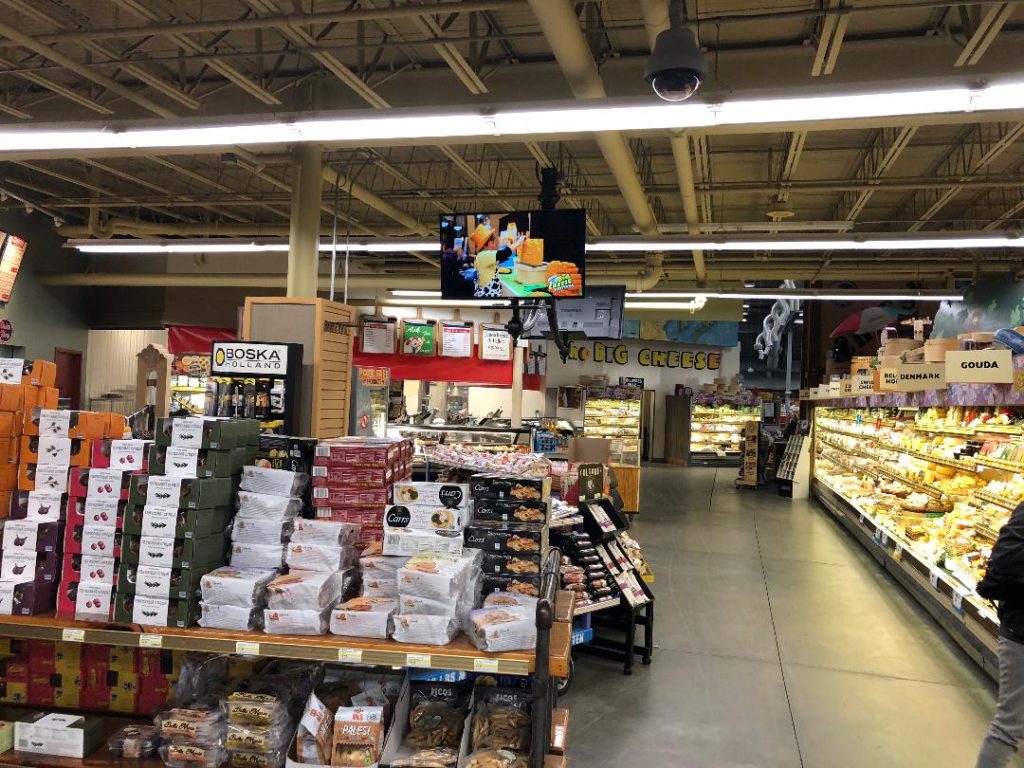 Huge reduced produce section gave me fresh produce to go with all the meats in my freezer!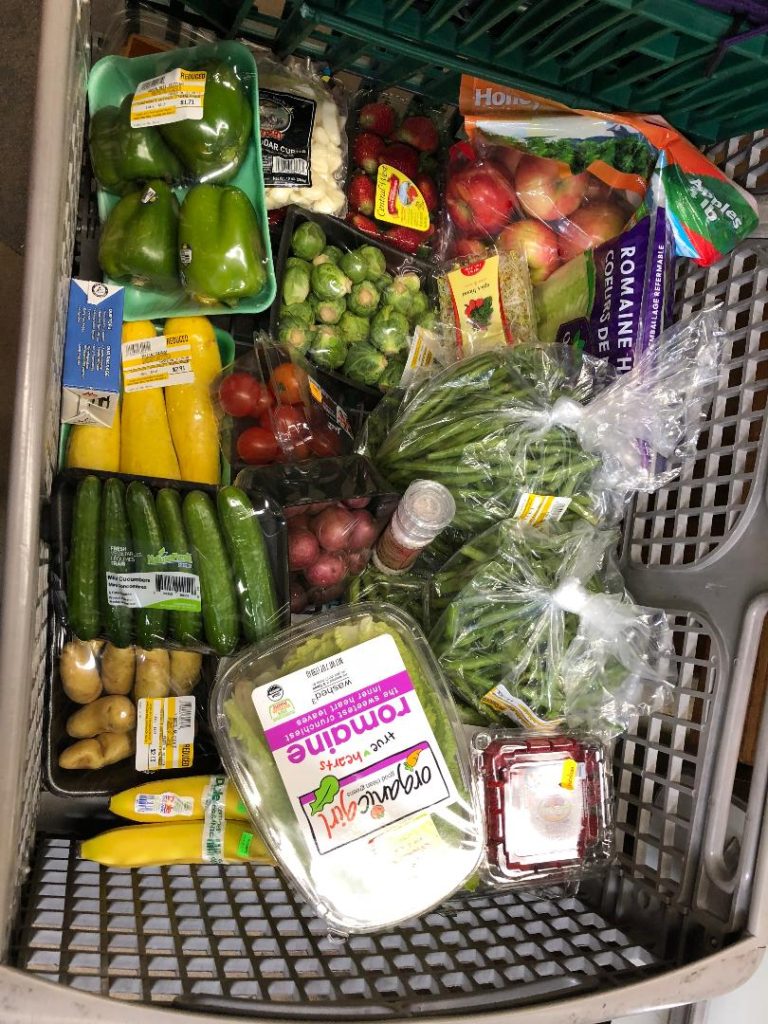 I had $65 left and spent $66! Yay me!

2) At the end of my writing retreat, my daughter and I traveled home via Cincinnati, Ohio to the largest grocery store in the area
The 6-acre Jungle Jim's. I tried to talk myself out of my grocery fast, noting that going there is a once-a-year-or-less event, but I really wanted to keep using my food stores. So….I decided to keep my list to a minimum, do some comparison shopping, look some of the foods I was after up on Amazon for future reference, and not buy anything extra pricey. As it turns out, I had $65 left for the month–and without even counting as I went, my total was $66!!! I was soooo excited! You can see my cart and grocery belt in the pics–I really cashed in on their huge reduced produce section! Ray Baby was snapping reduced green beans for hours during Sunday football the next day!
Nothing was wasted! If it didn't get eaten, it was frozen for a later date!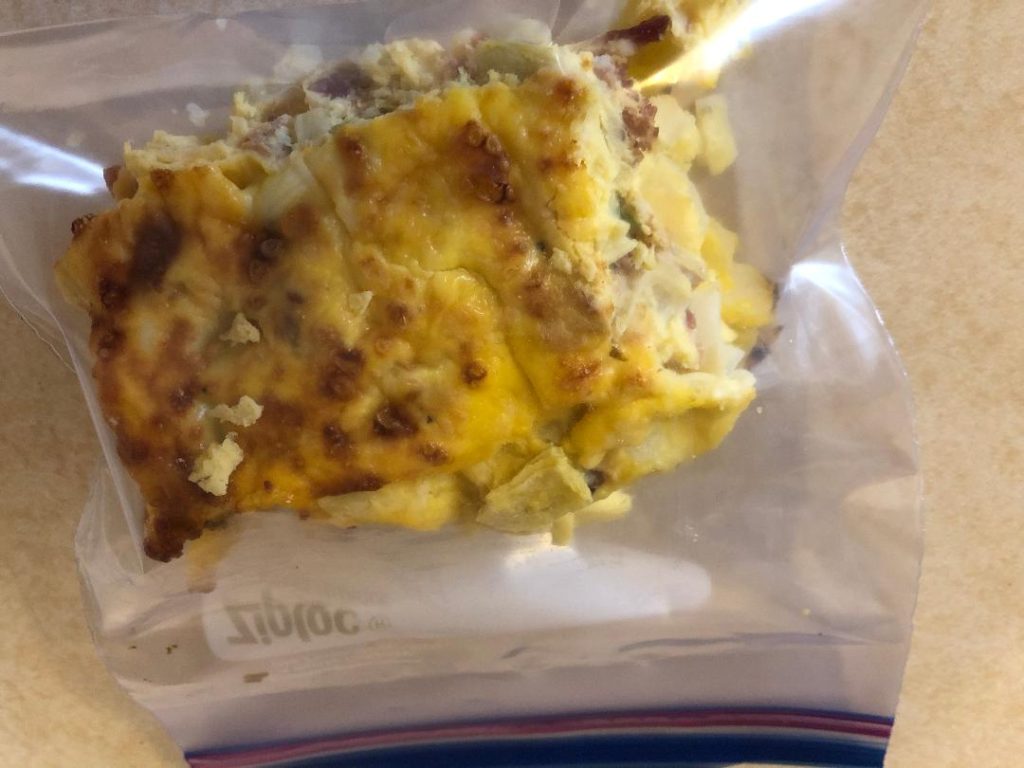 3) As I mentioned, I have been trying to be super diligent about not just tossing a little of this or a little of that.
When we had seven kids at home, it felt like things just eventually got used up. Not the case with just two of us! So I cleaned out the fridge and made a great 7 Layer Salad for our grandson's birthday party that everybody really loved–and true to not throwing out soft apples, I made Ray some apple salad.
Apple salad is a great way to use up soft apples!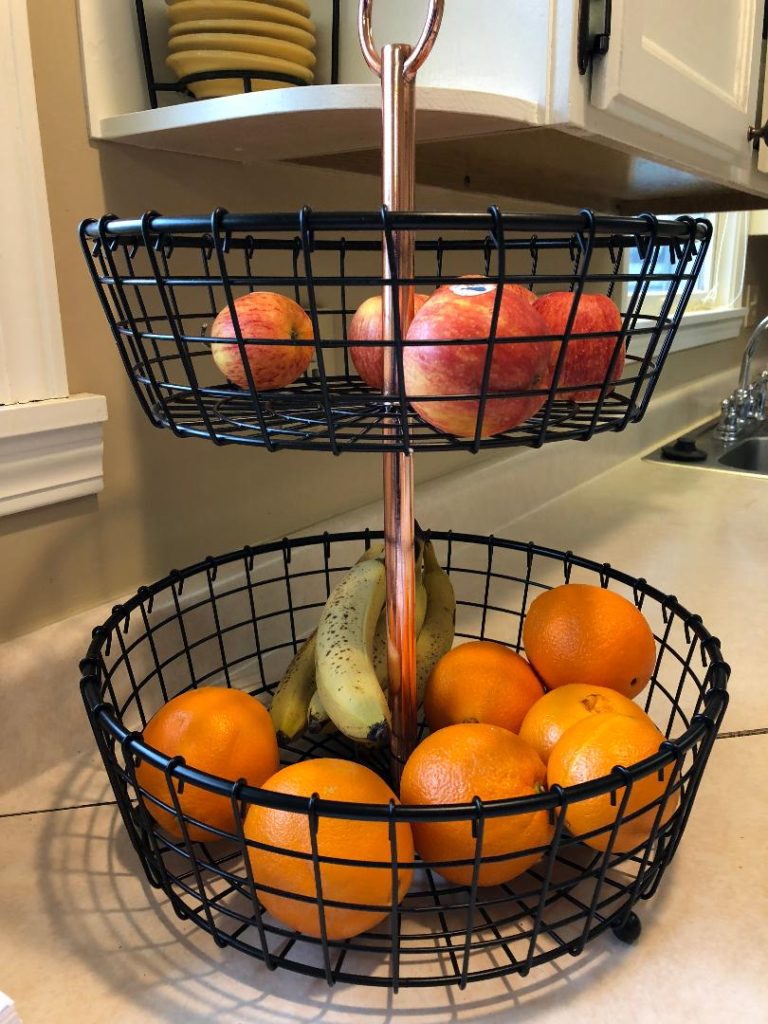 Mayo-PB Apple Salad!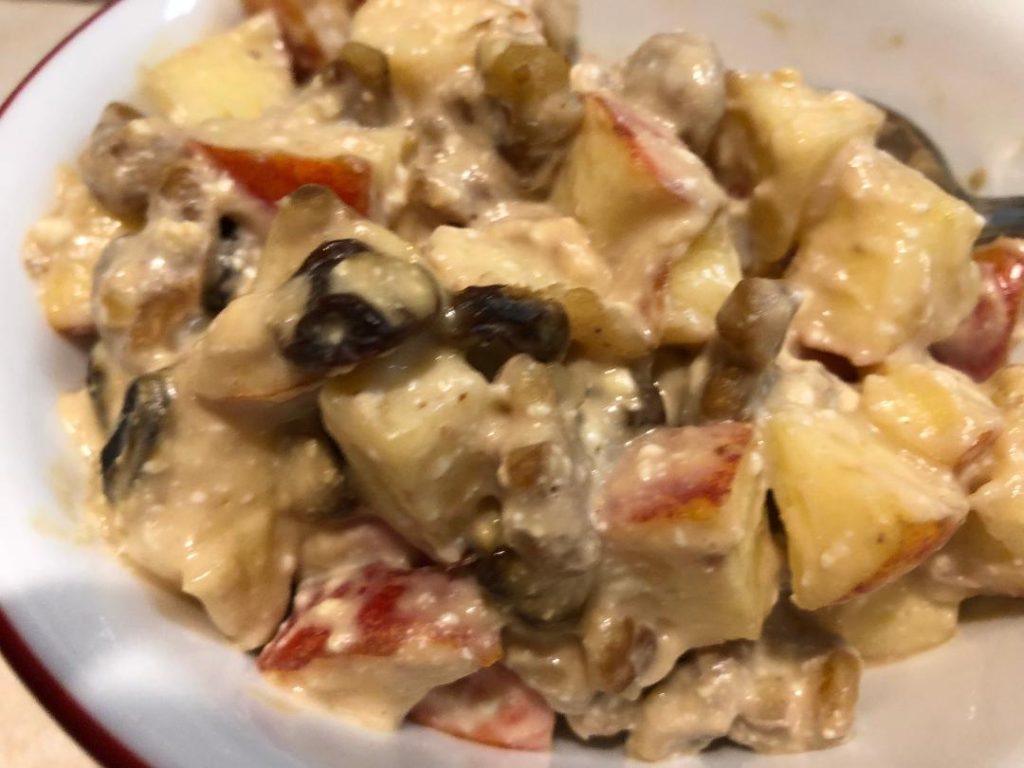 4) I used the veggies over the next two weeks and am happy to say that I didn't throw any of them out–not even a soft green pepper!
Yay me! I made stir fried zucchini, peppers, onions, sprouts, and mushrooms (see steak picture). I made roasted green beans. I made salads. I made dip for fresh veggies. I just babied those produce items every day, using them to their fullest!
Parmesan green beans—my favorite snack to open my eating window each day!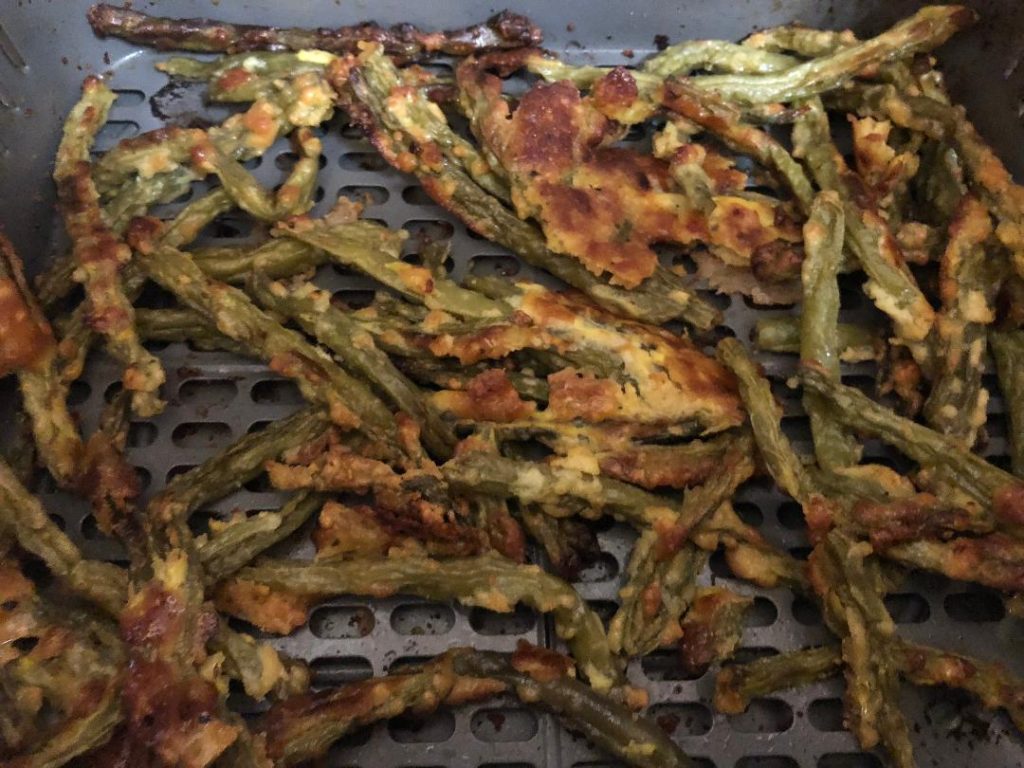 7-Layer Salad is a great way to empty the fridge!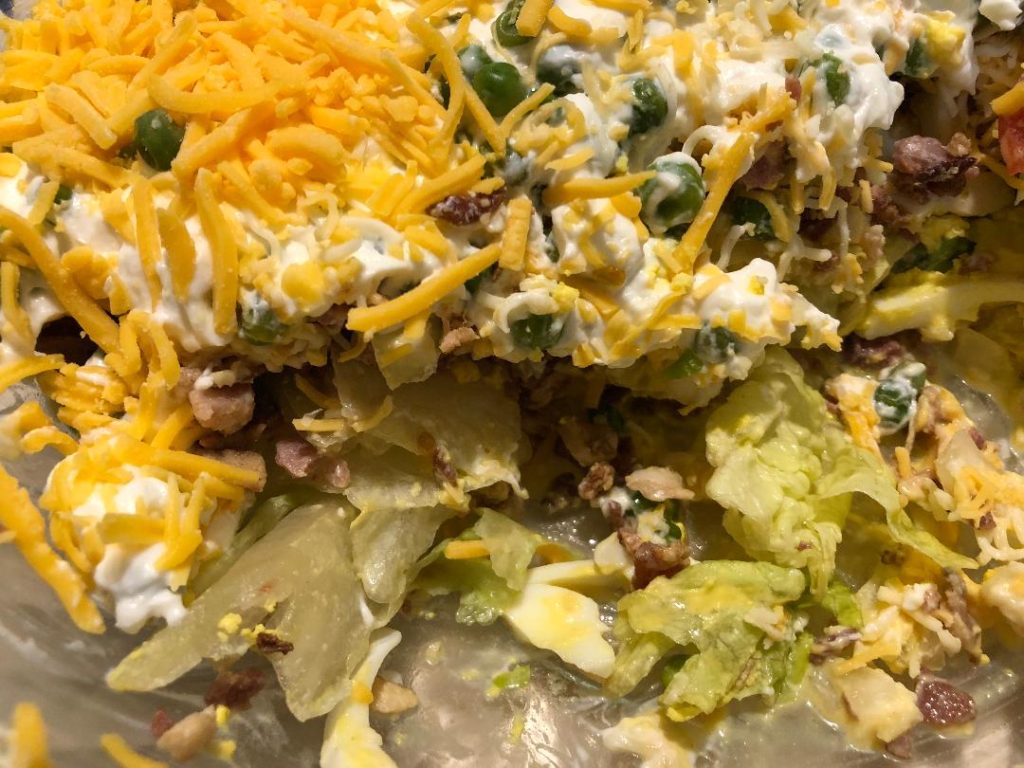 5) We had a unique problem that I knew we would have to face–we HAD to eat steak!
For five years, we had accumulated Omaha Steaks that our business received as gifts a couple of times a year. We didn't really know how to make steaks! With seven kids on one income for over two dozen years, we never bought steaks. We used meat as more of a "condiment" in combination dishes–lasagna, chicken spaghetti, tuna casserole, enchiladas, etc. We didn't serve that many meats as "per person" entrees (except chicken breasts…oh the chicken breasts! ha ha). So we dug in the freezer and committed ourselves to using them. We started with the most amazing Pan Fried Sirloin, which I was sooo happy with. I learned how to make steak–and make it really yummy tasting! Read all about that experience and the recipe here!
My first pan-fried steak was a huge success! Now I have to make steak every week for the rest of the grocery fast!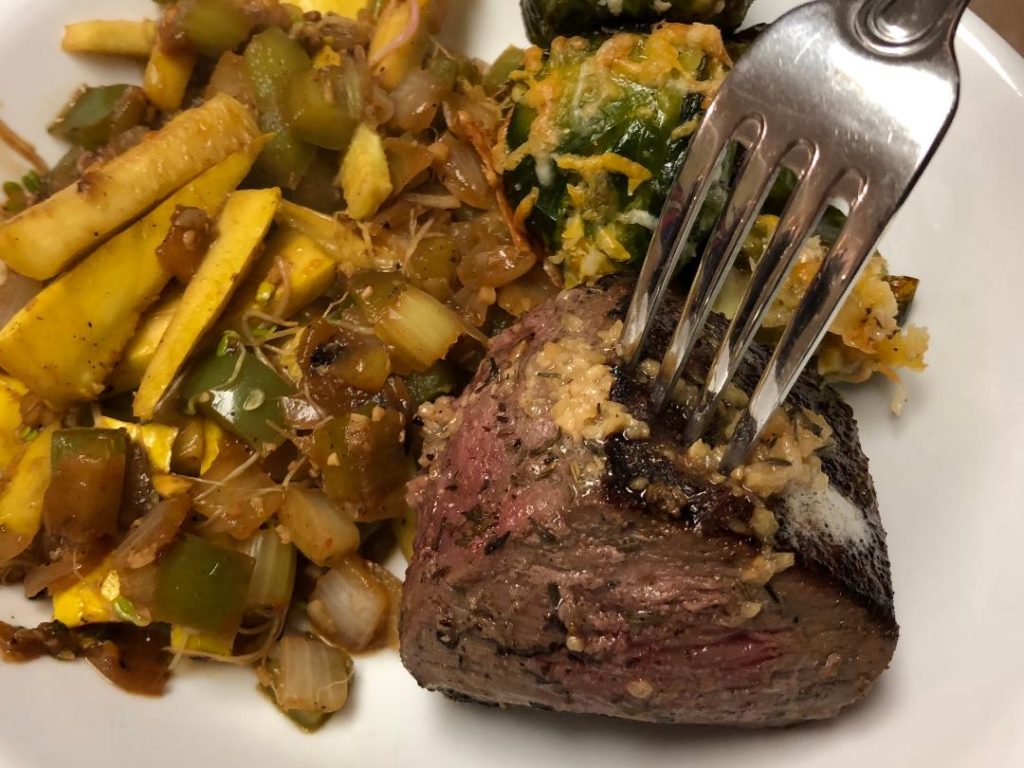 I ended the month on budget–with $25 a week average spent! And we ate like a queen and king! 🙂
Jason and I did a great job depleting the ice cream supplies!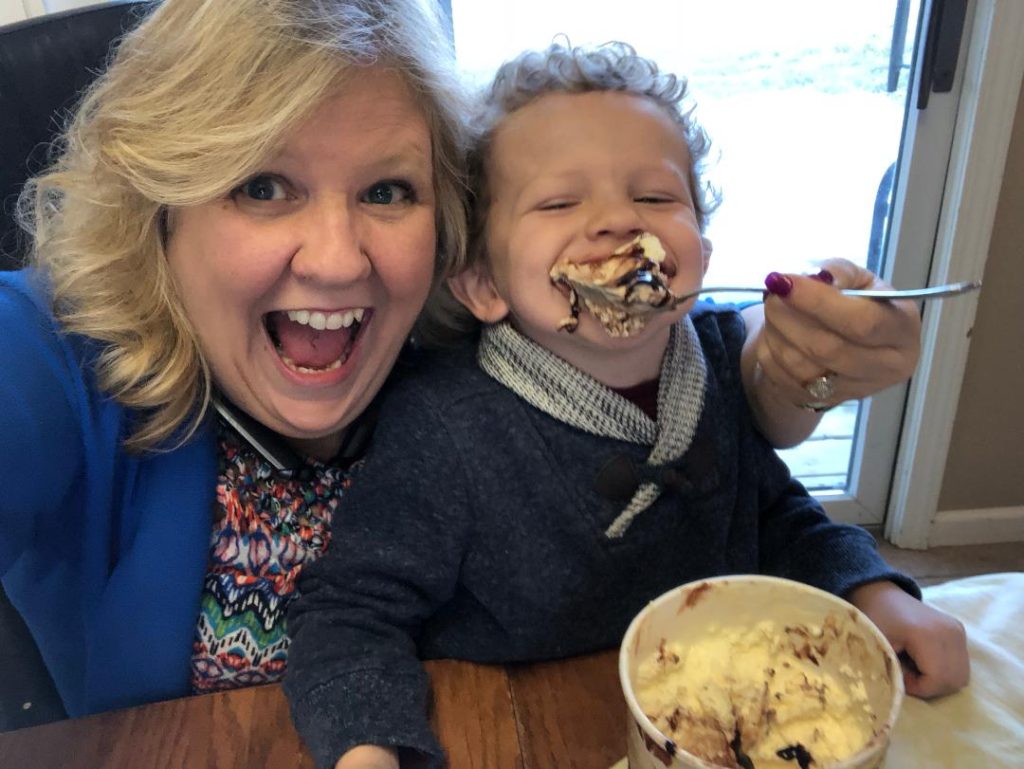 P.S. What do you like to make to "use up" produce? What is your family's favorite stir fried veggie combination?