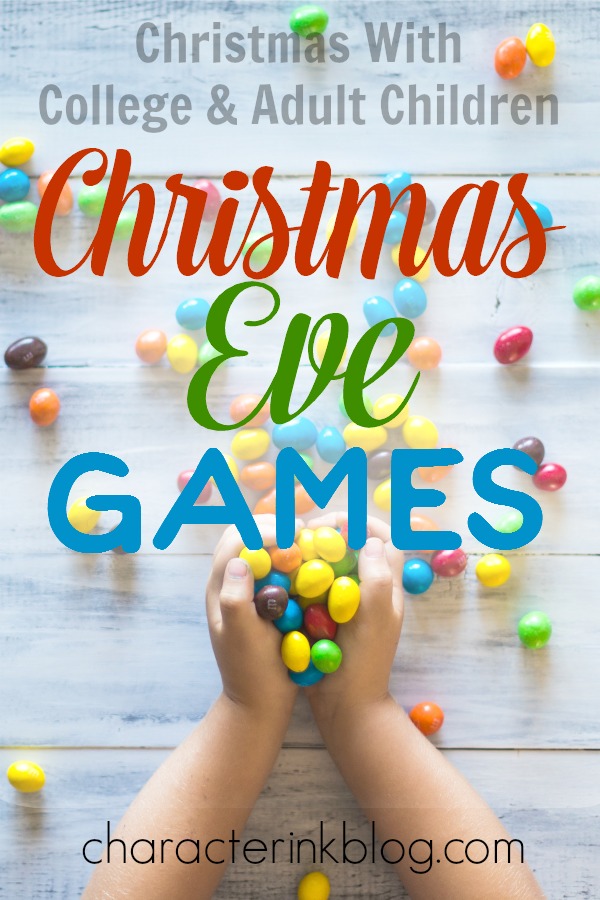 One of the ways that we make our Christmas Eve super special is through special gifts and games (besides the traditions from long ago of singing carols, reading Christmas stories, and having the sibling gift exchange). Our Christmas Eve is a full evening of food, fun, fellowship, worship, reflecting, reminiscing, and play!
In the past few years as our family has grown, we could no longer fit around the table for Uno, Kemps, or Pit, so Ray did some research on group games and discovered something called "Minute to Win It" (we have been without television for years…and only in the past few with Netflix and Hulu do we know what's out there! LOL). Anyway, he found things online, our daughter found some things for him on Pinterest, and he was off with new Christmas Eve traditions—Minute to Win It games.
For these games, we break up into teams and do relay style or "cooperative" types of games—completing puzzles, putting playing cards in a certain order, rubberband relay races, ping pong ball tosses, etc. It is crazy fun, and everybody has a great time with them.
Here are some pictures along with some descriptions of some of our favorite Christmas Eve games!
Teams of three assembling puzzles right side up then upside down!
Teams of three making a structure out of cups and plates.
Teams of three picking up M and M's with chop sticks!
Flipping ping pong balls to the other side of the table with rubber bands.
More Minute to Win It games!
Late night card games when the group dwindles as people go to bed!