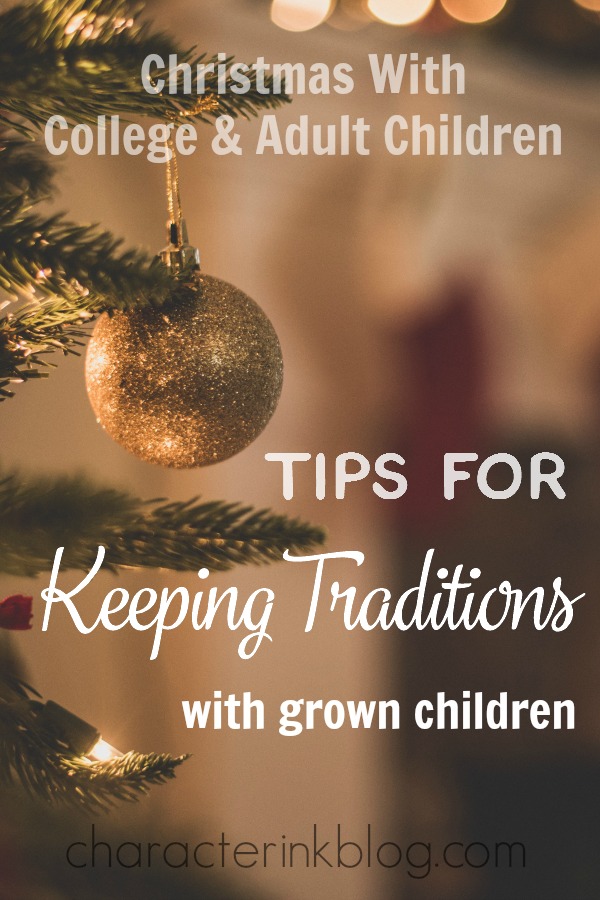 In a previous blog post, I discussed the importance of finding out those traditions that mean a lot to your college and adult kids so that they do not feel left out of the things you are doing in your home – especially the things that you used to do when they were little. In another post, I talked about the invitation versus obligation. (Read that here…that's important!)
This post will focus on the latter. We try to continue many traditions with our high school kids and our college kids living at home, but at the same time, we don't want to leave out the adult children who are away from home–or impose upon them either. This is a fine balance. Because of this, we recommend that you invite them to some of those things, but be sure that they do not see those things as obligations.
Also, especially for your married children, we recommend that you encourage them to begin their own traditions in their own homes. If they feel like they constantly have to come to your house throughout December in order not to disappoint you or miss a "tradition," they will likely not have the time or the initiative to begin their own traditions. Regardless of how much you might want all of your children there all of the time, we encourage you to help your adult children see their marriages and their families as their first priorities.
So what about the other traditions? Yes, invite them when appropriate, but don't push.
We love to invite the kids back for a baking and/or cookie decorating night some times! Again–invitation, not obligation! 🙂
Here are a few traditions we like to do:
1. Christmas stories—The older kids especially have fond memories of reading Christmas stories altogether throughout the month of December, on our decorating night, in the evenings leading up to Christmas, on Christmas Eve, and Christmas day. Because of this, I save a few of our favorite stories (see upcoming posts for some of our favorite Christmas read alouds for the whole group–many of which are available for free online!) to read when the family is altogether, such as on decorating night and our Christmas Eve. I have also gotten all of the children as Christmas gifts some of our favorite compilations of Christmas stories so that they would have them for their families and future families.
2. Christmas movies— we all have fond memories of watching Christmas movies together. One Christmas movie that is a tradition that we still invite the older kids back for is our White Christmas movie night. This movie was a favorite for all of us to watch together. It has become even more special in the last ten years or so when we made it an official White Christmas Night by adding "white spaghetti" (fettuccini alfredo with shrimp!) to our evening. We try to have this on the evening in December when some of the grown kids can come back home, and we do invite them – but again, it is an invitation not an obligation. It was so cute the other day when our new daughter-in-law (of one year) asked when we were doing White Christmas this year, stating that she had never been to one because they were always away at college when we did it. I love it that even my children-in-law look forward to our family traditions.
3. Family Christmas outing – through the years we have taken one outing during the Christmas season as a family and made it a big occasion. This might have been going to a Christmas play, a musical, a movie, or the planetarium for the Star of Bethlehem show. We usually went out to eat and/or went out for dessert on that night as well. This is something that we still invite the older kids back for.
4. Movie on Christmas night— I mentioned in a previous post how we have given Christmas day to our kids-in-law's family. Because our extended families no longer have get togethers on Christmas day, this left Christmas day kind of empty for those at home. Therefore, we added going to a special movie on Christmas night. Anybody who doesn't have anything going on that night is invited to come.
Yes, it is sad for me to think of all the traditions that have gone by the way… spending the entire month of December making Christmas ornaments, cooking and baking together, singing nearly every night around the tree, and so on. Those of you with small children don't skimp on your holiday traditions. And those of you with grown kids – remember those days fondly.
I love it that my own kids love and enoy their siblings-in-law!
(Please note that I am an affiliate for Amazon. I receive a small commission when you click on my links below. Thanks so much for your support of this blog!)
Favorite movies: