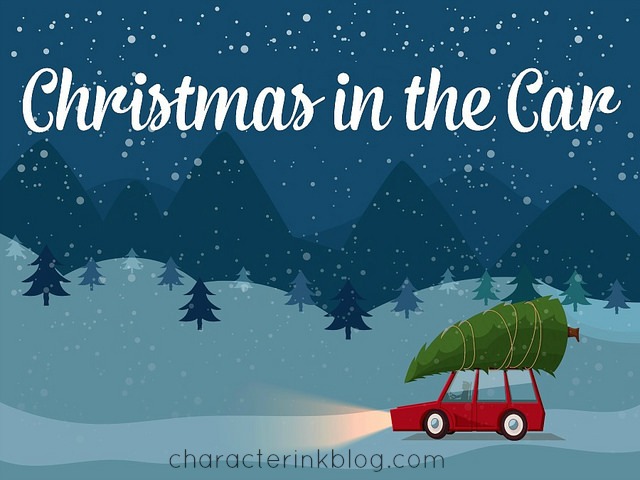 Tonight as we drove home from an extended family Christmas gathering, reading aloud and singing, I was reminded of an old article I wrote for our newsletter several years ago—Christmas in the Car. I will post it in its entirety below—gotta sneak in those family times any chance we get as our kids get older!
From 2004:
If your children are growing up as fast as ours are, and if you travel distances to church, piano lessons, grandparents, etc. as we do, you might want to try some of our "Christmas in the Car" tips. Basically, every year I see the holiday time slipping away from us. The girls are taking college classes; off to Spanish or piano; teaching their own guitar, language arts, and piano students; working at their jobs; and more. Every time I think we're going to have a sing-along/reading time tonight, someone announces that she has a Spanish test tomorrow and has to study all evening! Thus, our "Christmas in the Car" time was born.
We spend a great deal of time in the vehicle each week—driving to lessons, church, grandparents, etc.—all forty-five minutes away from us minimum. Being the efficiency expert that I am (of sorts!), I began utilizing this time in the vehicle to keep some of our holiday traditions alive. Try some of our "Christmas in the Car" ideas—and keep those traditions going strong:
*Sing carols as you drive.
*Listen to Christmas radio dramas (Focus on the Family has good ones), Uncle Dan and Aunt Sue Christmas stories, Christmas books on tape, Adventures in Oddysey Christmas stories, etc. as you are driving.
*Sing your way through the Christmas story. Start with "Mary, Did You Know?" and move on to "Oh, Little Town of Bethlehem," then move onto anything having to do with the shepherds ("The First Noel," "Hark the Herald Angels Sing," "Angels We Have Heard on High"). Next move into the birth/after the birth with "Silent Night," "O Come All Ye Faithful," "Away in a Manger," and "We Three Kings." Lastly, sing of the joy of his arrival: "Joy to the World" and "I Heard the Bells on Christmas Day."
*Tell the Christmas story in one sentence increments as you go around the van, person-by-person. (This gets interesting with the little ones who might have them fleeing Herod's wrath before Jesus is even born!)
*If a passenger can read without being sick, you might read your way through a favorite (pictureless) holiday book. We enjoy reading Cosmic Christmas by Max Lucado and The Birth by Gene Edwards. Everyone looks forward to reading another chapter the next time we get in the van.
*Likewise, we read "devotional" type books about Christmas while we drive. This year, we are enjoying short chapters in the book Stories Behind the Best-Loved Songs of Christmas (see review). We have also enjoyed Christmas Stories From the Heart, The Christmas Reader, and more in years past.
*Use the driving time to memorize the Christmas story from the book of Luke. (We like to assign one verse to each person and go from person to person.)
*We enjoy memorizing all the verses from a certain Christmas song each year. In years past, we have memorized "Away in a Manger," "Twelve Days of Christmas," and "We Three Kings." We can still sing most of the verses today!
*Drive by Christmas lights on your evening travels.
*Go through a drive-through or walk-through nativity while driving by one.
*Deliver goodies to those in route.
*Play "20 Questions Christmas-Style" or "Name That Christmas Tune."
*New game: A person picks three things about the Christmas story that are really true or just thought to be true (or embellished, such as the little drummer boy playing for Jesus), and the others try to guess which two things are really in the Bible and which one is not. This is eye-opening.
*Sing whatever Christmas song you are reminded of by the decorations you see—stars, snowmen, angels, etc.
*Make up your own humorous twelve days of Christmas song, with each person getting to add their own items to the list as you sing around the van.
*Play the ABC Christmas game—"What I love about Christmas is A for angel, B for baby, C for candy, etc." Go around and each person starts with A and tries to remember what was previously said. (This is a spin-off of the "I went to Grandma's and I took A for applesauce, B for blankets, etc.)
*My personal favorite: Have someone write your holiday cooking and shopping list and holiday menus down for you while you drive and dictate to them. (Be forewarned: No comments about the spelling or penmanship are allowed when the child is done writing for you!)