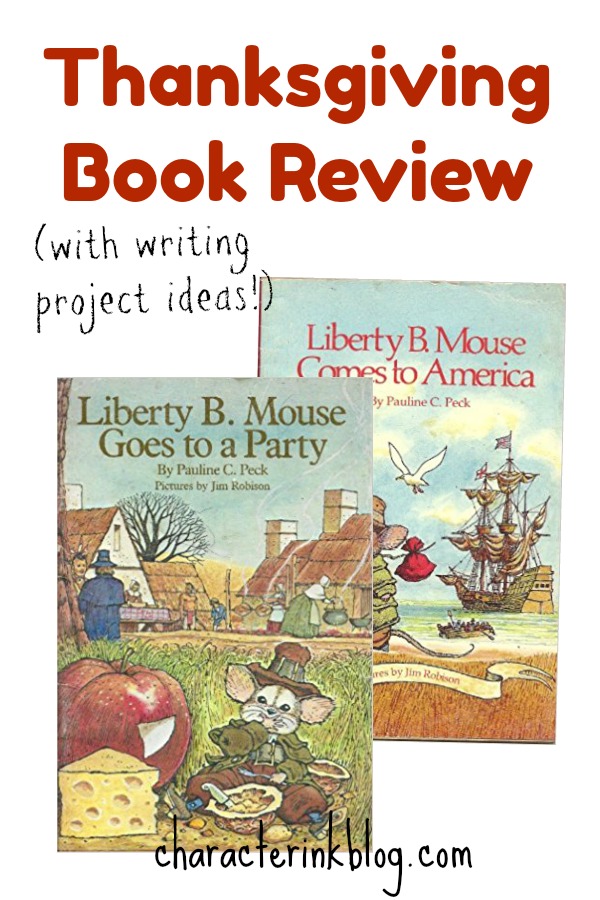 I know Thanksgiving is a full month away, but in order to get all of my holiday book reviews in before Christmas, I thought I should get started. (Plus, I like to have my students start writing their holiday stories and essays early!) And…I want to help you help your students do some holiday writing as well. (Hint: Free downloads and ideas below!)
One of my favorite Thanksgiving picture books is a simple little paperback book called Liberty B. Mouse Goes to a Party. It is one of a few about Liberty B. Mouse. Young children love this re-telling of the first Thanksgiving—since it's through the eyes of a mischievous mouse!
I have such fond memories of reading this story to all of my children—especially the part where Liberty sneezes a mouth full of corn and butter he is eating right into the campfire only to have some of the kernels "pop"—the first popcorn! (If I close my eyes super tightly, I can see the little boys' faces as I read that page!)
Below are a couple of notes about the two Liberty B Mouse books I recommend, but I also thought I would share a few ways to use these stories as writing springboards for elementary kids:
1. Divide a paper into several boxes and number the boxes (depending on your child's level), and write in each box a few words about what happened in each "scene" or page or couple of pages ("Liberty sneezed popcorn & butter in fire"). Then have your child write sentences in each box using your notes (or have him dictate them to you): "Liberty B. Mouse put a lot of butter and popcorn kernels in his mouth, and then he sneezed them right into the fire!" Do this for each "scene box" that you have created. Afterwards, help him put those sentences together to create his own Liberty B Mouse story.
2. Draw a rectangle (or a house—see my Paragraph House Outline on page 15 of this sample) As you read the story aloud, have your child fill in a box every time they hear a physical characteristic of Liberty. When you are done reading, help them turn those boxes into sentences for a paragraph.
3. For older elementary kids, take a paragraph or two from the book and create outlining lines to go with that paragraph(s). Have your child create a Sentence-by-Sentence (S-by-S) outline of the paragraph(s) and then rewrite them in their own words. (See a sample S-by-S Outlining space on download pages 1, 8, and 9)
4. Write a series of questions about the book or about Liberty B Mouse (or the Pilgrims). Have your student answer the in note form then write sentences using their notes to create a complete paragraph. (See Q and A outlining sample here starting on page 11)
5. For older students, use this book report lesson (tweaked for your story) to outline and write a book report.
Okay….back to the two books I recommend the most. Can't promise that either of the titles is available—but I found some used ones online, and many libraries have them.
(Please note that I am an affiliate for Amazon. I receive a small commission when you click on my links below. Thanks so much for your support of this blog!)
"Liberty B. Mouse Goes to a Party" by Pauline C. Peck (my favorite and the one the writing ideas above are based on) is available used at Amazon.
The second one, which is also very cute, Liberty B. Mouse Comes To America, is a classic retelling of the traditional Thanksgiving story through the eyes of a Mayflower Mouse. It tells the whole story of the Mayflower journey, the long winter, and the first Thanksgiving in simple terms that the young children can understand while still being interesting enough to the attention of older kids. It's no longer in print, but is available at Amazon.
P.S. What types of writing projects for elementary kids would you like for me to teach you how to teach? I have over 50,000 pages of curriculum, so I am sure I have it somewhere to pull out and create a download for you! ?
Love and hope,