"Soon it was time for Jakie to play in his play pen, so Josiah and I got to play together. Next thing I knew, we were in trouble! Mommy came into the room and said that it looked like a tornado went through. We did it again! We got too many things out at one time. We had stuff all over the living room: Legos, cars and trucks, Duplo people, books, and stuffed animals. It took us FOREVER to clean it up—even with Kara's help. Josiah and I had to each do an extra fifteen minute chore with Mommy because we forgot the rule about getting out too many things at one time. "
What Is Room Time?
Concentrated time of play and activity for young children in which they learn focusing skills, independence, problem solving, initiative, resourcefulness, deference and more.
Benefits of Room Time
1) Increase in Focusing Skills—studies show children who watch television over independent activities and/or what large amounts of television have more trouble with concentration, impulsiveness, and restlessness
2) Builds many preschool skills naturally
3) Provides small amount of time for Mom to get something done
General How To's
1) Set up a closet or area off limits normally in which you house the room time activities
2) Build the child's curiosity each day or week by describing what he can do that day/letting him peek in the closet/hiding (but showing!) new things you got for room time, etc. (Be sure he never sees it as punishment.)
3) Tell him ahead of time you will be starting it next week or whenever (if it is new to him…and especially if playing alone is new to him)
4) Choose second most time-intensive time of day for Mom (when she is needed elsewhere second to the most)
5) Set a timer or have some other mechanism in place so he knows when it ends (make it super short at first)
6) Give him a five minute warning for clean up
7) Have him clean up
Room Time Activities Suggestions
• Closet or several tubs somewhere
• Not something he normally gets to play with
• Something you have already done with him/that he has mastered and can do alone easily
• Nothing too difficult or that he would need help for (he should grow into those things)
• Age appropriate/size appropriate
• Non electronics
• Imagination-driven
---
SIGN UP for Character Ink Press/Raising Kids With Character newsletter and receive an annotated list of suggested activities for room time for preschoolers and toddlers in our December 2015 Freebie Friday!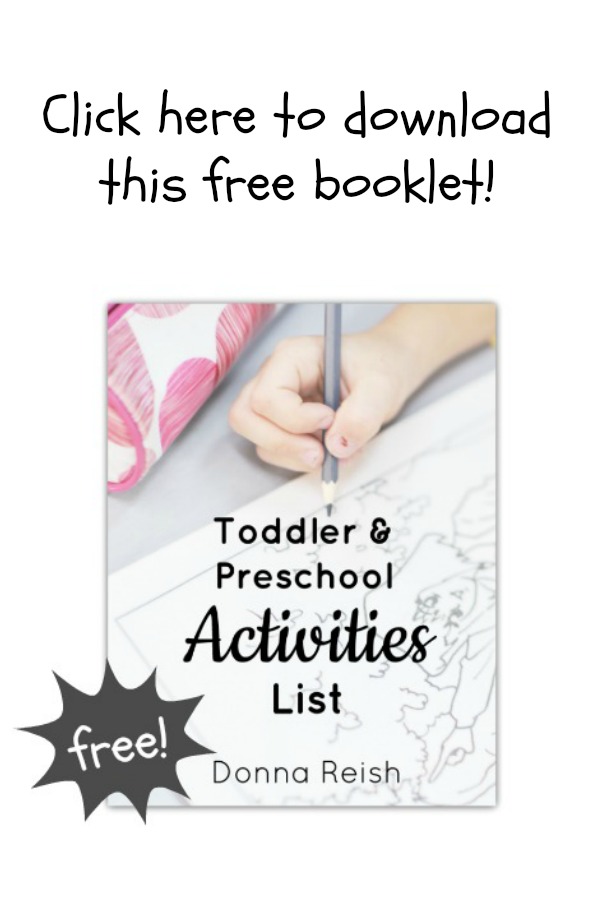 ---
Potential Problems and Solutions
• Bored—children often get bored with "regular" things when they have too many thrills (electronics, etc.) Don't let room time take the place of those (or he could resent it), but try to reduce the thrills in other ways/at other times
• Bored—try to really tap into your child's interests and get activities geared towards those
• Won't stay in room time—at first let him come out or call out one time, but then he can't unless it is an emergency (don't make it so long that he feels trapped and feels like he has to come out)
• Can't fill the entire time—if you are increasing time and want him to play longer, try switching toys halfway through, helping him play or come up with activities/suggestions and then leave again
Links
Podcast: Solving Common Preschool Behaviors
Podcast: Turning Unusually High Need Preschoolers Into the Darling Angels They Were Meant to Be
Blog Post: Story Time With Toddlers and Preschoolers
Podcast: Story Time With Littles & Very Littles
Blog Post: Character Training for Toddlers & Preschoolers – Boundaries, Simple Tastes & More
Podcast: What Should I Do With a Kindergartner
Podcast: How Do I Prepare My Child to Learn to Read
Podcast: What to Do About Toddler Trouble
Podcast: What to Do With a Wonderful One-Year-Old
Save
Save
Save
Save
Subscribe!
...and download my Kid's Faves list plus get access to my language arts freebies!